There's a reason why visitors all over the place can't stop chanting about Delhi's food. Delhi is basically a hub of all food delicacies ranging from street food to famous western cuisines. Food also contributes to making Delhi as "Dil Walon Ki Dilli". Well, it's not only tasty food but also the ambience and behavior of the staff makes your visit more promising. On that basis, let us present you with the list of Top 9 Best Cafes In South Delhi.
1- Social, Hauz Khas
The breathtaking lake-side view is a thing that can make anyone addicted to this place. Social is just an amazing cafe that keeps you hooked with its tasty food and unique concept of combing office space and nightclub. It's also one of the best drinking places, and one of the best cafes in South Delhi.
Opening Hours: 11 am-12:30 am
Average Cost for Two: ₹1300
2- The Big Chill, Kailash Colony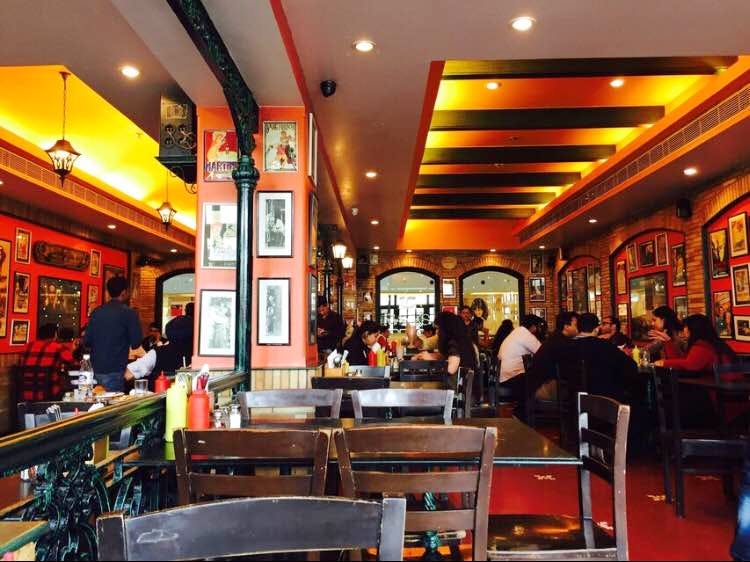 One of my favorite Italian Cafe having its outlets in Delhi NCR. It' a perfect place for pizza and pasta lovers. You'll also enjoy a large variety of shakes at this place. The theme of this cafe keeps you engaged with the surroundings. You'll see the posters of several famous movies all over the walls. If you ever run around this place, grab a seat and enjoy your time.
Opening Hours: 11 am – 12 midnight (Mon-Sun)
Average Cost for Two: ₹1500
3- Theos, R K Puram
Theos is quite famous for offering mouth-watering desserts. The most beautiful thing about this place is you'll get a vast variety of cakes, pastries, cup-cakes, shakes, etc. Each and every single item in your menu is freshly baked. This is a place for dessert lovers.
Opening Hours: 11 am – 12 midnight (Mon-Sun)
Average Cost for Two: ₹1500
4- The Rose Cafe, Saket
A fine dining cafe made Mediterranean style in the color shade of pink and turquoise. The beautiful cafe is famous for jaw-dropping ambiance and amazing garden seating. It's perfect to spend some time with you one and only. Everything about this place from food to staff is delightful.
Opening Hours: 12 pm-9 pm
Average Cost for Two: ₹1000
5- Coffee Bond, Uday Park
Serving you with the best coffee in the entire city is what Coffee Bond offers its customers. A wide range of different coffees with subtle and warm aura will make you fall in love with this place. The fragrance of the freshly grounded coffee will make your mood refreshing.
Either you're near for work or some casual friend's meeting, you must take a visit to Coffee Bond.
Opening Hours: 8 am – 11 pm (Mon-Sun)
Average Cost for Two: ₹800
6- Brown Sugar, Greater Kailash
If you're a momos lover, then you don't need any introduction to this place at all. Apart from being a very good cafe, this place serves the momos in town. This cafe is newly-built, earlier they used to serve their food on a small street outlet. This cafe is usually crowded on weekends, but you'll love the variety of dishes they serve.
Opening Hours: 12 pm-9 pm
Average Cost for Two: ₹700
Let us also help you with the best restaurants in South Delhi :)
7- Cafe NYC Queens
If you're looking for the perfect adda for your me-time, or to spend some fun time your bestie, this is a place for you. Basically, this place for everyone who's looking to have some tasty food with a wallet-friendly price. With the pleasant staff and cool environment, you'll love it here.
Opening Hours: 11 am – 11 pm (Mon-Thu), 11 am – 12 midnight (Fri-Sun)
Average Cost for Two: ₹700
8- Red Mango, Ambience Mall, Vasant Kunj
Red Mango is also of the best cafe in South Delhi located in the Ambience mall of Vasant Kunj. This place is popular for serving naturally made yogurt of different flavors. You can easily customize your yogurt with so many flavors and pay by weight. Apart from yogurt, there're other several tasty items on their menu.
Opening Hours: 9 am – 12 midnight (Mon-Sun)
Average Cost for Two: ₹600
9- Woke Cold Brew Coffee, Saket
Last but not the least, this place is simply good as per taste and ambiance. You'll love the cold brew coffee they serve. This place offers positive vibes with some tasty food. The place lies around the world-famous Champa Gali ;-).
The place is cute, and a favorite spot for coffee lovers.
Opening Hours: 1:30 pm – 10:30 pm (Mon, Wed, Thu, Fri, Sat, Sun)
Average Cost for Two: ₹600
We expect this list will be helpful to sort your places for this weekend. Have fun and share your experience in the comment section.